You love Instagram photography, and you happen to visit Lucerne city? Scroll down for some of the famous places as well as lesser known viewpoints you don't want to miss. Click the pictures for the exact locations and directions on Google Maps.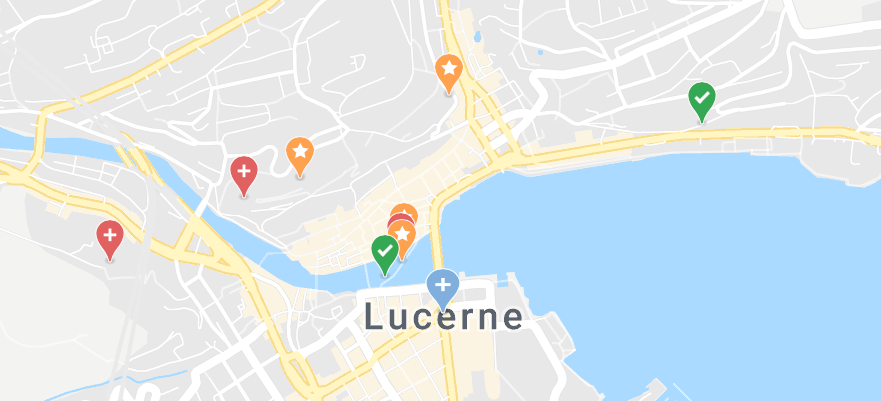 Many people say that Lucerne is the most beautiful city in Switzerland. Here you can see 10 reasons why:
Chapel bridge Lucerne
Let's start off with some classic (say: instagrammable) views of Chapel bridge (in German: Kapellbrücke). On clear days you capture two photo spots in one pic: Kapellbrücke together with Mount Pilatus (2128m all) in the background.
For more ideas for outstanding pictures of Chapel Bridge click here
Water street photography
In Lucerne street photography means water street photography. You may want to capture the many nice views from the famous bridge, in the old town and from the large hotels at Haldenstrasse.
Another nice place if you like water photography is Nadelwehr with Spreuer Bridge.
Lucerne from above (no-drone)
There are some places where you can get nice postcard views from above: Go to Museggmauer, Männliturm or ask for permission to enter the SUVA Building.
You like fairytale-like castles? You also want to get away from bustling (and sometimes too touristy) Lucerne? Then Hotel Grütsch is for you. Take the hotel's own funicular, get yourself an Apéro drink and enjoy a more quiet view on Lucerne.
Total estimated walking time between all 10 places in Lucerne city is less than two hours, and you can use the hotel's funicular to get all the way up to Grütsch. But take your time.
Of course there are many more great spots in Lucerne but did you like this selection? Please let us know any of your other favourites.
You would like to explore another beautiful city? Why not explore some of the best photo spots in the city of Zürich.